PlusUs LifeCard Powerbank review
- Hello guys
Android news and Technology
, At this time the article entitled PlusUs LifeCard Powerbank review, have provided the article android news from beginning to end. Hopefully the contents of android news and techno make you understand and enjoy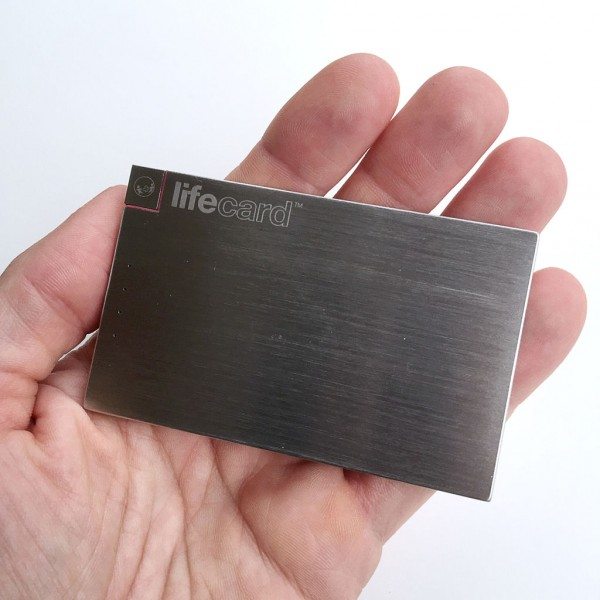 Our mobile devices need juice, yes? I'm talking power, amps. The answer to that is of course, YES. As a result, portable power solutions have become quite popular. I'd been thinking about going on the hunt for a small battery to top off my iPhone 6 Plus when I travel or can't be near an outlet for extended periods. Enter: LifeCard by PlusUs. It's a small (very), portable rechargeable battery that can be used to give your smartphone a top-off when you really need it. Let's check it out. Gadget on!
Specs
Per PlusUs, the specs for the LifeCard are as follows:
1500 mAH with Output 5V, 1A and Input 5V, 0.8A

Charge up to 80% of an iphone 5s and up to 65% of an iphone 6 and 40% of an iPhone 6 Plus

High tensile stainless steel space frame. Laser welded

and adhesive bonded for structural stiffness

Winner of iPhone Life Magazine – Best of CES 2016

3.5 x 0.1 x 2.1 inches
0.3 ounces
Packaging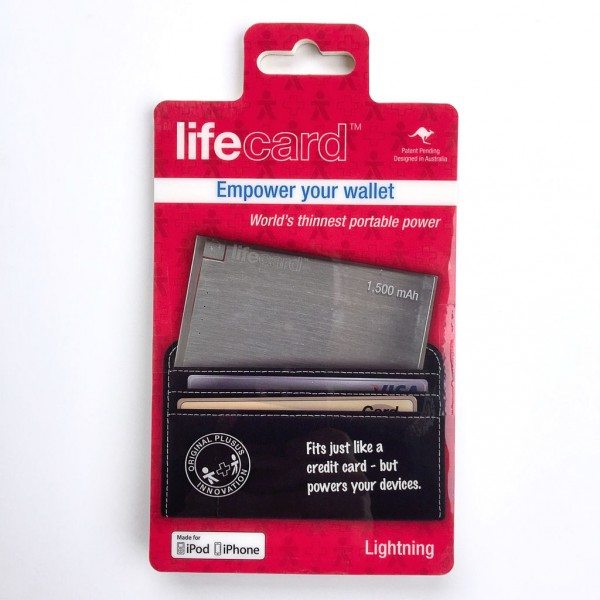 The packaging is interesting. It has a transparent window that shows the actual LifeCard through it, but if you just glance at the package, you might think it has a photograph of the product on the front.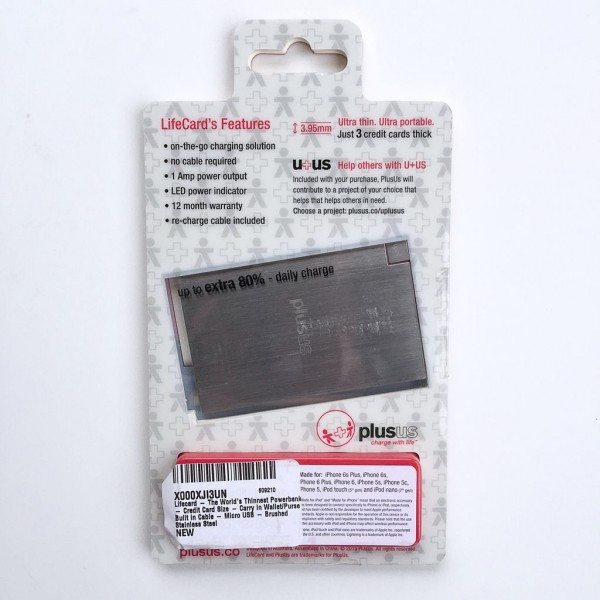 The transparent window present on the front and back, so the back of the LifeCard can be viewed as well.
Contents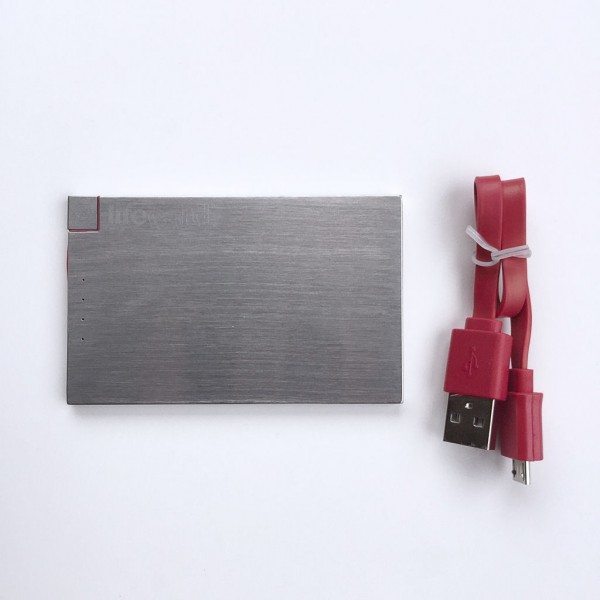 The package contents included the following items:
Features, Functions & Performance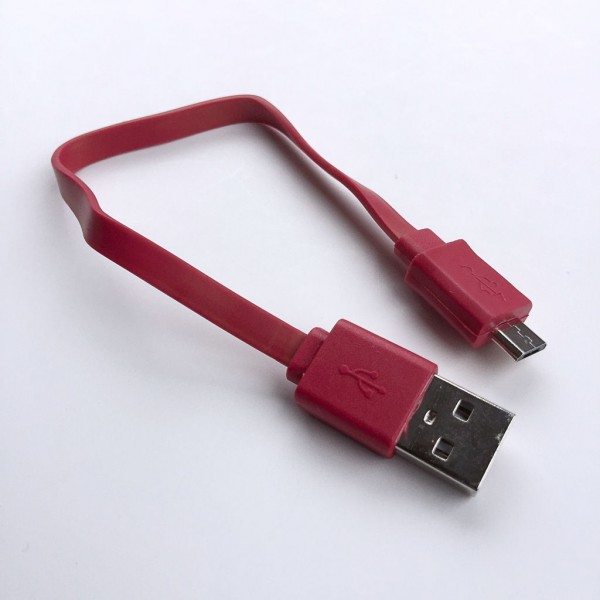 The recharging cable is about four inches long, and is a flat, ribbon-type USB to micro USB connection.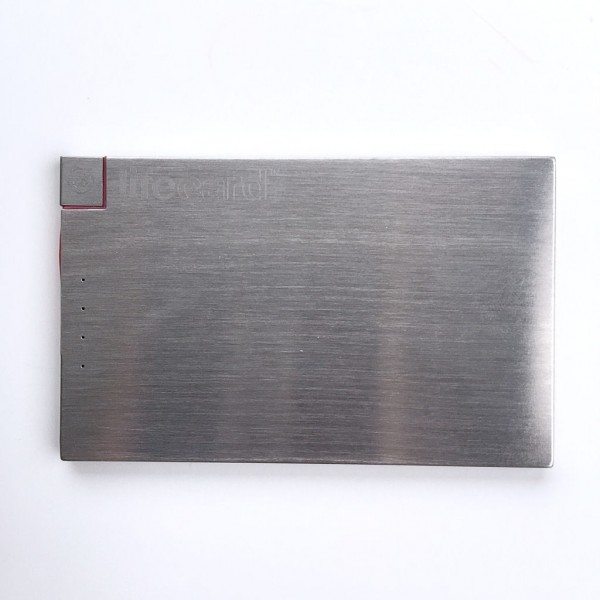 Above is a photo of the front of the LifeCard. I think it has a slick appearance, with its brushed stainless steel case and etched logo and other markings. However, this stainless steel does show fingerprints. They are quick and easy to wipe off, but they seem to be nearly omni-present.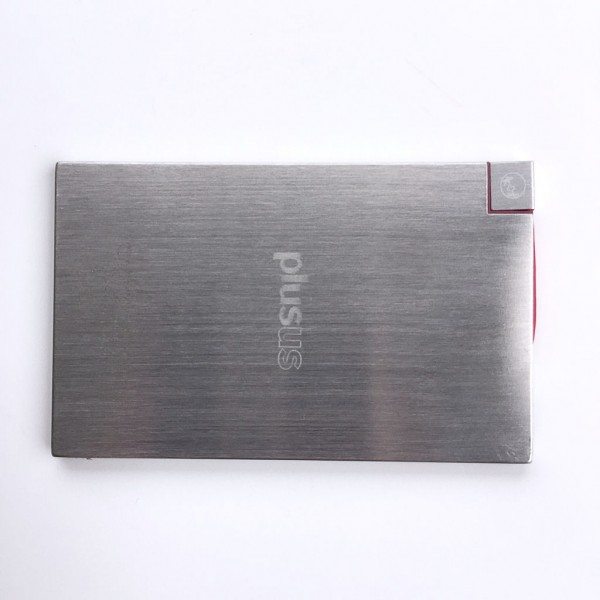 Above is a photo of the rear of the LifeCard. It looks similar to the front, with the brushed stainless steel, understated logo and risk of fingerprints.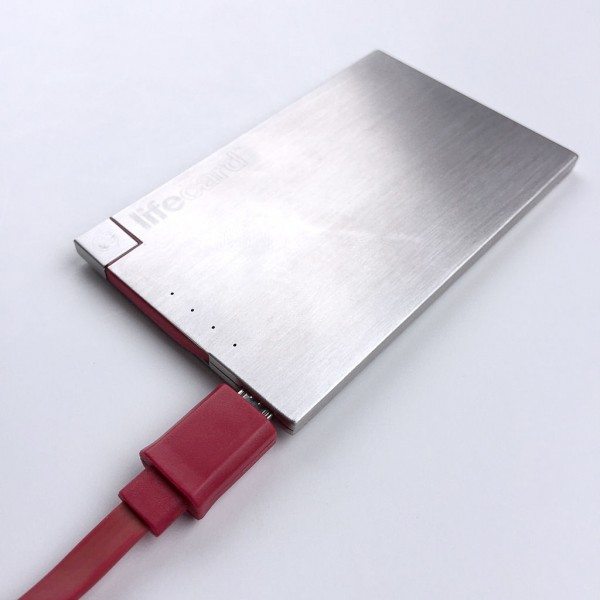 Above is a photo of the flat ribbon recharging cable plugged into the micro USB charging port on the LifeCard. It might have been nice to have the recharging cable integrated directly into the LifeCard itself, but my assumption is that the recharging cable is separate from the LifeCard in order to save space and make the LifeCard as small and as thin as possible.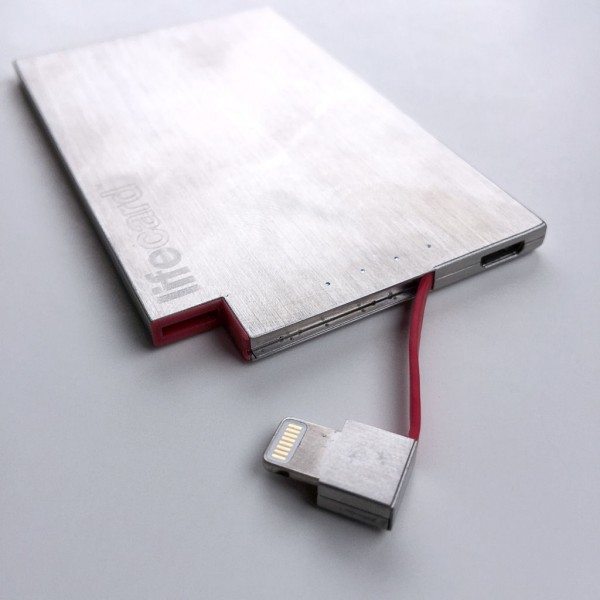 Above is a photo of the Lightning charging cable deployed from the LifeCard. It stores by plugging into the corner of the LifeCard into a soft plastic socket that hold it quite well, and it slides in and out easily. Also visible in the view above are some of the fingerprints that I've been describing.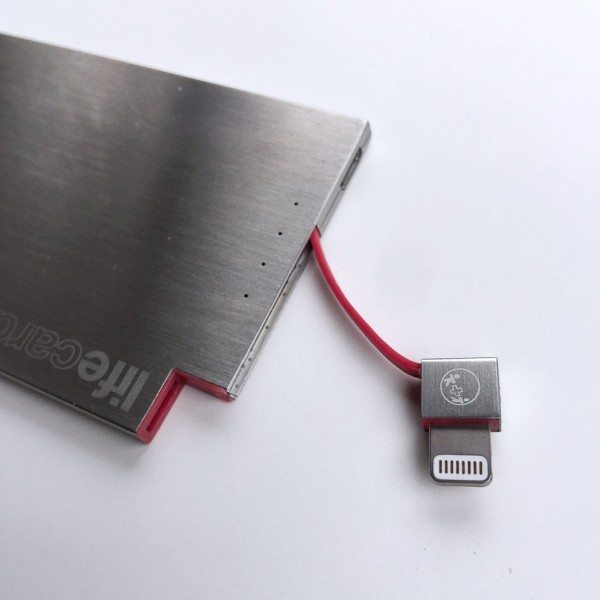 Above, another photo of the Lightning charging cable. This connector concerned me a bit—it is hard a bit difficult to grasp and it feels like the point at which the cable meets the Lightning connector is very fragile. I was constantly worried about ripping the cable out of the Lightning connector, though as of this writing that hasn't actually happened yet. Also visible are the four tiny pin-holes for the blue LEDs that indicate how much charge is left on the LifeCard.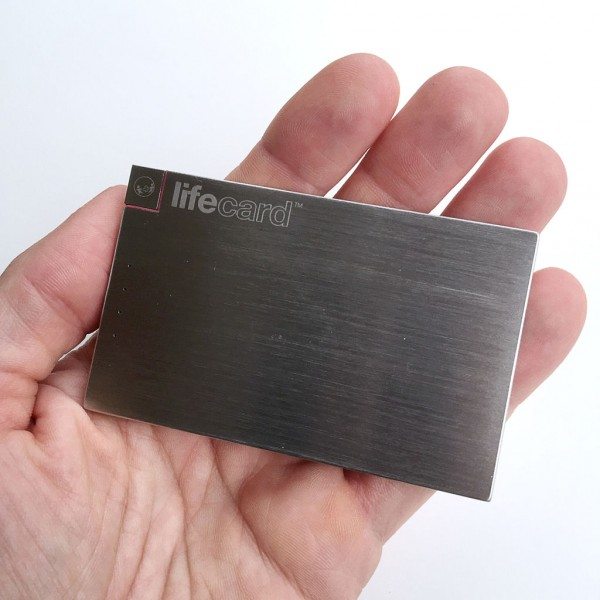 The LifeCard really is quite small and thin, fitting easily into the palm of your hand.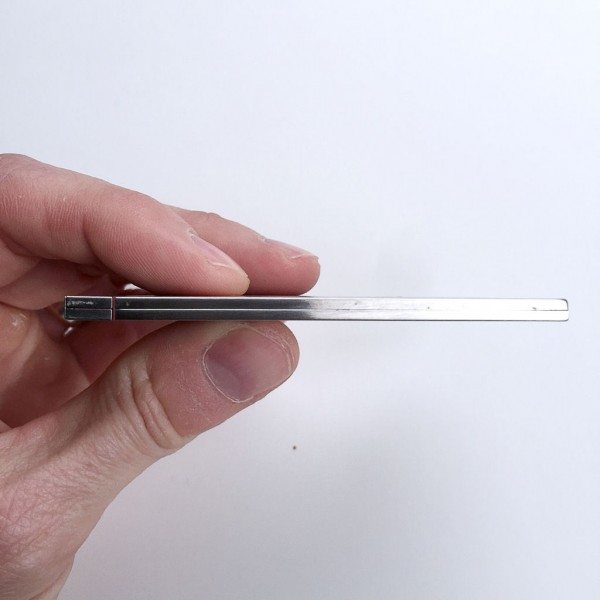 LifeCard is actually amazingly thin, only a few millimeters thick as seen in the image above, about the thickness of 3 to 5 credit cards.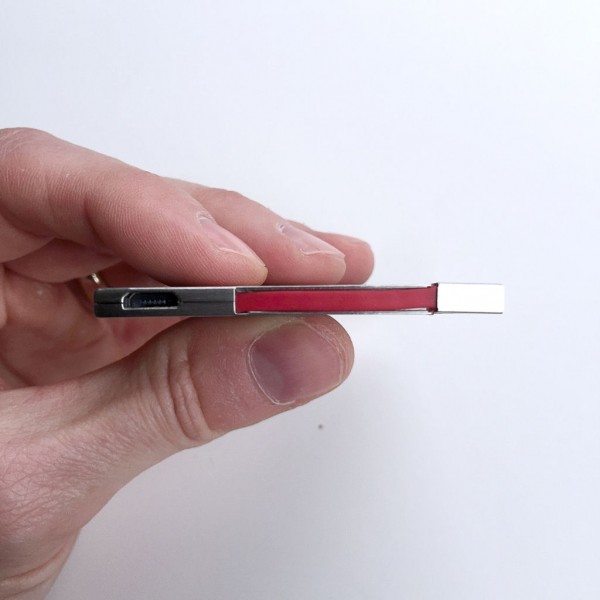 Above is a photo of the Lightning connector tucked into the edge of the LifeCard.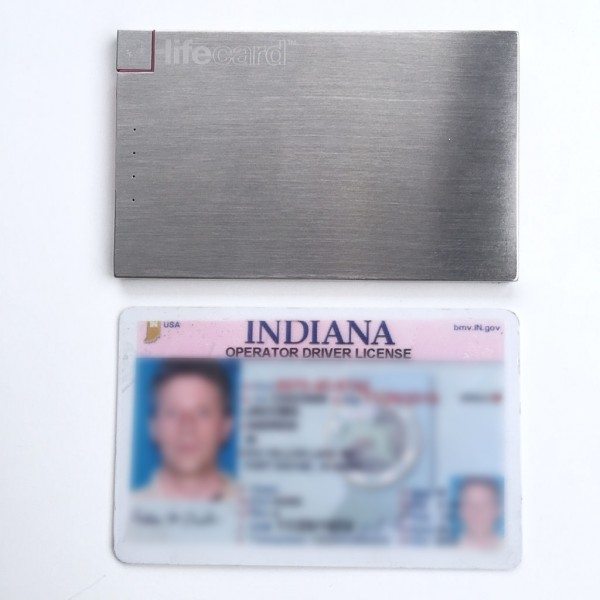 LifeCard is actually roughly the footprint of a credit card, seen above compared to my driver's licence. With LifeCard's dimensions, it could fairly easily be stored in your wallet and carried it with you, as part of your EDC, for travel or just about anywhere. However, I tend to favor small, thin, minimalist wallets, so LifeCard wouldn't fit in mine.
Now, how about LifeCard's performance? PlusUs touts "Charge up to 80% of an iphone 5s and up to 65% of an iphone 6 and 40% of an iPhone 6 Plus," and I think that's about right. I used the LifeCard to charge my iPhone 6 Plus multiple times. I think the best I ever got out of it was maybe 30-40% of the iPhone's charge before the LifeCard was drained and I had to recharge it. It seemed decent for a minor top-off, but that's about it. On the other hand, keep in mind that the LifeCard is quite small and thin. Smaller battery means smaller amount of charge from it.
Source: The sample for this review was provided by PlusUs. Please visit their site for more info and Amazon to order.
Product Information
Price:
$59.99
Manufacturer:
PlusUs
Retailer:
Amazon
Requirements:

An Apple device with Lightning cable port
A USB port to charge it

Pros:

VERY small, thin and lightweight

Cons:

Lightning cable connector is fragile
Doesn't really deliver much charge; more for "topping off"
Can show fingerprints
Filed in categories: Cables, Batteries and Chargers, Reviews
Tagged: Backup Battery
PlusUs LifeCard Powerbank review originally appeared on The Gadgeteer on May 22, 2016 at 8:35 am.
Note: If you are subscribed to this feed through FeedBurner, please switch to our native feed URL http://the-gadgeteer.com/feed/ in order to ensure continuous delivery.
so this article PlusUs LifeCard Powerbank review
here the android news PlusUs LifeCard Powerbank review, Hopefully can give benefits to all of you. Finally, well...i hope the finally of this article make you enjoy it
you are a reading of
PlusUs LifeCard Powerbank review
the permalink of this article is
http://aricsedtechblog.blogspot.com/2016/05/plusus-lifecard-powerbank-review_22.html
I Just Says
Good Job Guys....
PlusUs LifeCard Powerbank review